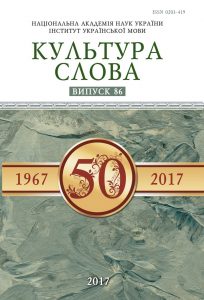 ISSN print – 0201-419
e-ISSN 2708-9827
JOURNAL
CULTURE OF THE WORD
Founders:
National Academy of Sciences of Ukraine, Institute of the Ukrainian language of National Academy of Sciences of Ukraine
Publisher:
Institute of the Ukrainian language of National Academy of Sciences of Ukraine
Founded:
in September 1967
Certificate of registration of print media:
Series KV № 11864-735Р of 19.10.2006
Scientific journal Culture of the word is registered by the Ministry of Justice of Ukraine as print media (Certificate: Series КВ № 12180 – 1064 ПР of October 19, 2006).
Published: two issues a year
Sphere of distribution: nationwide and foreign
Readership: scientists, graduate students, teachers, students
Scientific and theoretical journal

Edition is included in the Register of scientific professional publications of Ukraine (Order of Ministry of Education and Science of Ukraine by № 1604 of December 22, 2016)
Editorial board:
16 persons, 1 of them – Corresponding Member of the NAS of Ukraine, 4 foreign experts in the field of linguistics, doctors of philological sciences (Republic of Bulgaria, Republic of Poland, Czech Republic), 15 – Doctors of Philology
Thematic orientation:
coverage of theoretical and practical issues of linguistic stylistics, sociolinguistics, language of culture, history of language and writing, language of folklore, dialectology, grammar, terminology, onomastics, publication of language advice, consultations.

---
Rubrics of the journal 
Theory and history of linguistics
A word in a work of art
Language and time
The term and the present
The language of mass communication
Language standard: constant and variable
From the history of culture and writing
In the world of proper names
Grammar stylistics
Pronunciation and emphasis
The treasures of the people's word
To help the teacher
Figures of Ukrainian linguists
Reviews
Our consultations
Thoughts over time
About authors
---
Legal documents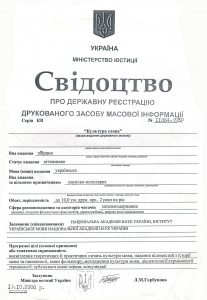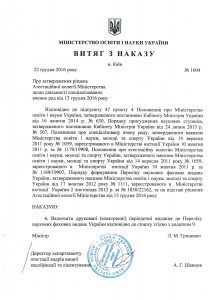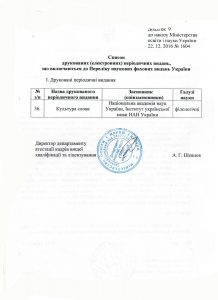 ---
Problems
The magazine publishes materials on topical theoretical and practical problems of the Ukrainian language in the field of linguistic stylistics, sociolinguistics, linguoculturology, history of language, dialectology, grammar, terminology, onomastics, language culture, as well as the problems of integrative linguistics, spelling, codification of lexical and grammatical and stylistic norms, etc.
Reviews of Ukrainian and Slavic linguistics novelties, linguistics and reviews of publications that are a prominent phenomenon in linguistics are published on the pages of the magazine. In addition, the journal publishes articles on the anniversaries of prominent linguists, and highlights issues raised in linguistic forums-symposia, conferences, and congresses.
Reviewing
All articles submitted to the editors of «Culture of the word» are reviewed and edited. The editorial board decides on the submitted manuscripts.
At the recommendation of the reviewer, according to the decision of the editorial board, they are accepted for printing, sent for revision or rejected.
At the request of the editor, the articles are submitted with external reviews
The magazine is not a prepaid publication